06/10/2022
THE MONEDERO ROUTE 2021
Walk the Monedero Route 2021!
"The dream of many is to travel Route 66, which went from Chicago to Santa Monica to Los Angeles. A total of 3,939 km that crossed 8 states of the United States…"
Monedero is launching "La Monedero Route 2021", a comprehensive campaign in which customers can accumulate points by purchasing spare parts from the Gearbox and Differential ranges.
The duration of the campaign is from June 1, 2021 to October 31, 2021, when customers can accumulate points to later redeem for different gifts.
In total, more than 15,000 references enter the promotion, making the quality that represents the brand available to the customer, with unbeatable prices and exclusive gifts.
Gearbox spare parts
The range of spare parts for Monedero gearboxes is made up of a large stock of references for mechanical and automatic transmissions in their various applications for buses, trucks and industrial machinery.
Shafts, pinions, synchronization, friction elements, bearings, among others. Available for Daf, Iveco, Man, Mercedes Benz, Renault, Scania, Volvo, ZF, Allison, Voith, Eaton, Clark and Spicer brands.
Differential spare parts
In addition, the Monedero differential line includes a wide variety of bus and truck components. Pairs of bevels, planetary and satellite housings, bearings, rings and repair kit. Large stock of differential groups and complete axles, in their different versions and ratios.
Exclusive gifts
What gifts can customers claim based on accumulated points? For €1,000 of purchases, you get 100 points for the Route!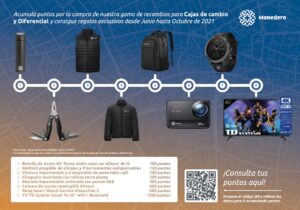 1,000 points – TD Systems TV, 45-inch Smart TV
800 points – Garmin Smartwatch
600 points – Victur Submersible Action Camera
400 points – Executive Style Laptop Backpack
300 points – Quilted jacket with feather padding
200 points – Waterproof and breathable vest in soft shell materials
150 points – 10 in 1 multi-tool
100 points – Double layer thermo steel bottle
What are you waiting for to travel the Monedero Route 2021?
The campaign has an original design that refers to the customer "walking" the route to get the gifts, with the colors representing a sunset and the background of the lines of a map.
The #TeamMonedero will use different means to communicate its La Ruta campaign, so for more information you can visit its Facebook, LinkedIn or download the legal bases of the promotion here.
See you on the Monedero Route 2021!