06/10/2023
We celebrate our 25th anniversary!
Auto Comercial Monedero was founded in 1998, and if we look back… who was going to tell us! What began as a small equipment repair shop has become over the years a large company, which operates nationally and internationally and with more than 50 workers.
The location: strategic, yes indeed.
Located in Motilla del Palancar, a strategic location near Madrid and Valencia, Monedero represents the dream of the family whose surname gives it its name.
Today, we export to more than 70 countries, we are present on all continents and we represent quality and excellence with each product we launch on the market.
Passion for work and effort has always represented us, and last September 14 we had the opportunity to celebrate everything with our workers, clients, suppliers, partners, friends and family. What a celebration!
The Casas Colgadas and the San Pablo Bridge in Cuenca were unparalleled witnesses of the event we organized at the Parador. We had the opportunity to show that Cuenca… is unique, and that Monedero is also unique.
More than 200 attendees had the opportunity to learn in depth the values that characterize us, and that we always abandon. Proximity… is there something that best defines Auto Comercial Monedero?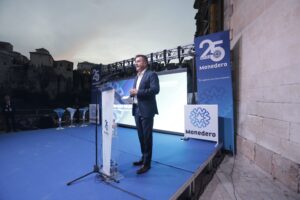 Welcome, round tables and speeches
A large part of the #TeamMonedero took the stage to make themselves known better by all attendees. Elena Cervera, our Marketing Director, opened the event by thanking all attendees for her presence, and made it clear that "we are not afraid to continue celebrating birthdays."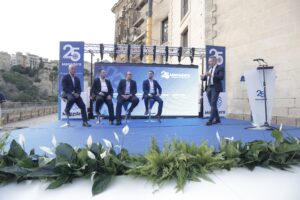 In addition, we were able to enjoy the interventions of the Commercial Department: Jorge Reyes (Central-South Commercial Delegate), José María Darriba (Central-North Commercial Delegate), Juan Martínez (Export Director) and Miguel Ángel Domínguez (Commercial Director). They conveyed to us their close relationship with clients, collaborators and distributors, the importance of the brands that have trusted Monedero to distribute their products nationwide, and the powerful combination that all of them represent.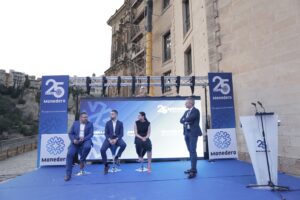 Also the interventions of the Purchasing Department: Óscar Meneses (Head of Spare Parts), Jorge Alberto Cerdán (Project Manager) and Carla Martínez (Purchasing Manager). They told us about the new developments (ambitious, we are not going to say otherwise) that will arrive at the end of this year and that we will be able to see on the market very soon.
We closed the event with the speech of our CEO, Daniel Monedero, who wanted to thank all attendees for their presence and briefly tell them how Monedero started and how they have managed to become a benchmark in the automotive sector.
Monedero and its values, the best inheritance
Daniel transmitted to us his closeness, characteristic of the entire Monedero family and also of the entire #TeamMonedero. Furthermore, all the values that have become the best heritage generation after generation, and thanks to which today, we can celebrate this anniversary, which will be the first of many more.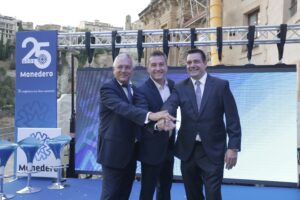 What is clear is that for Monedero, 25 years… taste like little!