26/05/2023
Discover the differences between long block and short block
Become an expert and master the characteristics and differences of the different engine blocks.
If you work in the sector, or you are passionate about mechanics, you have surely heard about the long block and short block. These have a relevant role in all vehicles and, although you may know them in broad strokes, you may still have some doubts about their differences and characteristics.
But… don't worry! The #TeamMonedero explains in this post the main differences so that you have it clear. We are experts in components for heavy and light commercial vehicles, special vehicles and buses. In this section, we will tell you everything you need to know, keep reading!
What they are, differences and characteristics
The engine block is a cast iron or aluminum structure in which all the parts of an engine are located. Thus, when you order a block (also known as a naked block) in the workshop, you should know that you are only getting the structure and, on it, you will have to assemble the rest of the elements to complete the engine.
However, when we talk about short and long blocks, the main difference lies in the number of parts included in each of them. Do you want to know more? Don't miss the following sections!
Short block
The short block or short block engine is the lower part of the engine. It includes the cylinder block, where the combustion chambers are located, and has different individual parts such as the crankshaft, the camshaft, the engine equipment (piston + cylinder liners), the bushings, the cooler and the oil pump.
Among the advantages of a short block we can highlight that its initial price is cheaper and that it allows greater customization. However, among its disadvantages, we can highlight that it requires a longer installation time, since the different components must be checked and assembled by the customer.
Below, you can see a picture of one of the most sold short blocks: the Mercedes Benz OM651 short block with reference 10010300061, which you can find in our b2b web platform.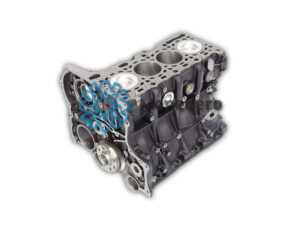 Long block
The long block engine includes both the short block, which is the lower part of the engine, and the upper part.
Thus, the long block will include components such as the cylinder head and sometimes camshaft plus rocker arms. Even so, it should be noted that the engine would not be complete, because it would still have to add some components such as the fuel system and the intake and exhaust manifolds, among others.
Among the advantages of a long block we can highlight that the parts included are already adjusted, which also saves time. However, it has some disadvantages such as, the initial price is higher and you can not customize it, which may lead many to prefer the short block.
Below is a picture of one of the best-selling long blocks: the MAN D2676 long block with reference number 20010400018, which you can find on our b2b web platform.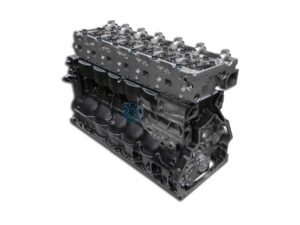 Brands
In Monedero we always want to offer the best to our customers, that is why we are distributors of a large number of brands that meet our high quality standards.
We have short blocks and long blocks for light commercial vehicles from Man, Mercedes Benz, Iveco, Volvo, DAF, Scania, Cummins, RVI, among others. For passenger cars and vans we also have short blocks and long blocks for Volkswagen, Nissan, Ford, Fiat, Renault… and many more! Enter our b2b web platform and discover everything we can offer you.
Conclusion
Now that you know what they are, their characteristics, advantages and disadvantages, you will have the opportunity to make better decisions. You will be able to evaluate what you prioritize when buying an engine block, if you prefer it assembled or if you prefer its customization. In addition, you will take into account the time you have available, as well as your budget.
Based on all of the above, you will decide whether in your particular case it is better to buy a short block or a long block… knowledge is power!
In Auto Comercial Monedero we work to offer you the best service and help you make better decisions. Let our experts advise you and you won't miss anything. Thanks to the section of this blog you will learn everything you need to know about the automotive sector.
About us…
Monedero has been serving the automotive sector for 25 years and we are one of the reference companies in the automotive sector.
We are characterized by our investment in R+D+i and our commitment to the digitalization of processes. Thus, through our new b2b web platform you will be able to find more than 1 million references, as well as obtain personalized technical assistance.
Among our strengths we highlight our human resources. Our professionals are highly qualified and specialized in the automotive sector. Therefore, we are prepared to always offer you the best solution to your problems, thanks to our experience and knowledge in the market. In short: people, experience and know-how.
Want to keep learning with Monedero? Read our blog and… Become an expert!
We have everything you need to take you far