The aim of the visit is to establish a relationship between the students and the company in order to bring the students closer to the world of work.
During last week the students of Vocational Training of IES Jorge Manrique visited the facilities of Auto Comercial Monedero.  The synergy between the two parties was created with the aim of bringing students closer to the world of work, encouraging them to enrol in Dual Vocational Training and encouraging them to carry out work experience in the company to boost their professional career.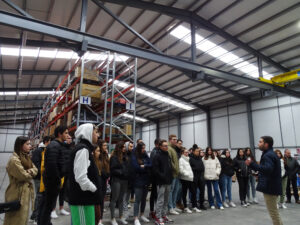 Practice makes perfect
The students of the Advanced Automotive and Bodywork and Painting Degree, as well as those of the Hybrid and Electric Specialisation Course, were very satisfied with the visit to the company's facilities.  It should be noted that they showed special interest in those areas related to their educational field, such as the Workshop and the Technical Area.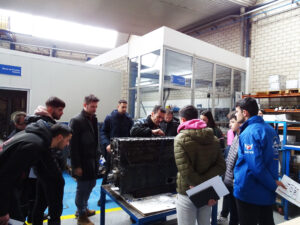 José Antonio Moratalla, head of the workshop, explained to them the rebuilding and assembly verification department, which ensures the optimal functioning of the assemblies and a high degree of reliability.  As well as the facilities equipped with high-tech machinery, they were particularly impressed by the two test benches. In addition, they were able to use the machinery and tools in the workshop, putting into practice the knowledge acquired during the academic course.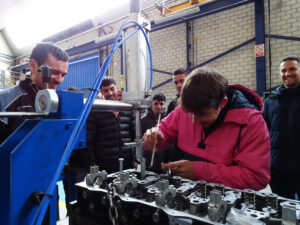 Visit to the facilities
For their part, the students of the Intermediate and Advanced Management Degrees enjoyed a complete tour of the company's facilities.  Thus, they got to know in depth the company's departments and, therefore, the positions they could apply for internships or for future employment. In addition, the heads of the different departments gave a talk about the daily workings of the company.
It should be noted that all the students were able to benefit from the advice given by Lucía Sahuquillo, head of Human Resources. She guided them on how to prepare a CV successfully, while she introduced them to the various platforms through which they can search for employment, such as Linkedin or Infojobs.
Finally, the visit ended at the logistics centre, where IES Jorge Manrique received the donation of a gearbox and a steering box by Monedero in collaboration with Recitruck.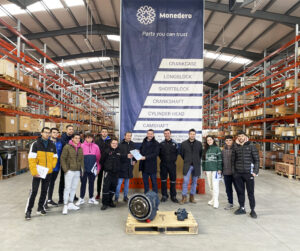 Leader in the automotive sector
Auto Comercial Monedero was created with the aim of serving the automotive sector, providing the market with high quality services and products. Currently, the company develops, manufactures and distributes spare parts, being a reference in the sector and operating in more than 70 countries.
Its values include a commitment to quality, the environment, the well-being of people, as well as its commitment to R+D+i. Monedero is a symbol of quality, technology and excellence.
Monedero, we make you go far