Auto Comercial Monedero, specialists in the development, manufacture and distribution of spare parts for all types of industrial vehicles and buses, makes the new cylinder heads into the market for light industrial vehicles and passenger cars.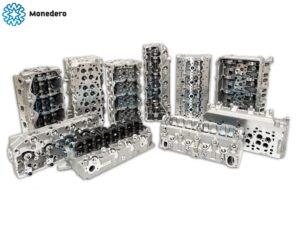 Quality: the most important
With the launch of this new range of stocks, the company enters the competitive sector in style, offering one of its most representative products: stocks, with the quality that Monedero products represent.
The main brands worldwide
The brand launches more than 700 new references on the market, applicable to the main brands, such as Audi, BMW, Alfa Romeo, Dacia, Iveco, Jeep, Kia, Land Rover, Mercedes-Benz, Nissan, Peugeot, Porsche, Renault, culminating thus one of Monedero's most ambitious projects to date.
At Auto Comercial Monedero they continue to invest resources in research and development, to offer the market the products they need, with superior quality.
If you want to see exclusive images of the manufacturing process of these new cylinder heads for light commercial vehicles and passenger cars, click here.